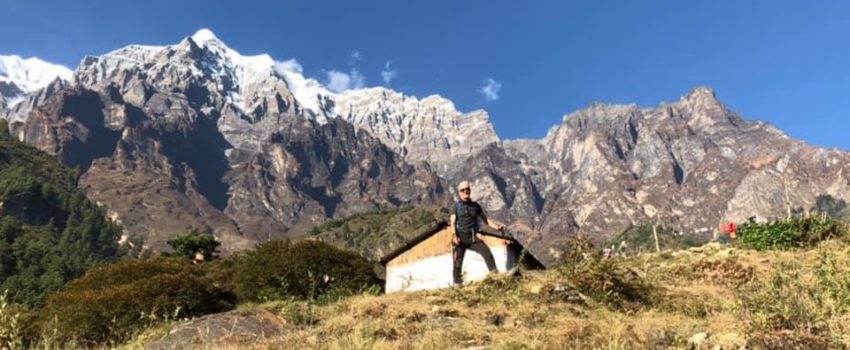 We woke to roosters and running water, jingling bells of donkeys carrying loads up and down the mountain. It was a steady hike with many ascents and descents, leading you through stunning bamboo and pine forests. I am inspired by our fellow Korean travelers both 79 and 80 years old. On our first day in the Tsum Valley, we trekked 10 hours.  So far the Tsum Valley has fulfilled all my expectations.
Yesterday we walked on an amazing cantilevered metal walkway across a cliff face above the river which collapsed a section of trail that was lost as a result of the 2015 earthquake.
The walk today from Lokpa to Chumling in the Tsum Valley was more challenging than expected.  It involved a lot of very steep sections were one realizes by the end of it why Tsum Valley has remained isolated until very recently. We crossed another incredible cantilevered metal walkway across a cliff face. On the way, we came across beautiful terraced fields and Bhutan Pines. Beyond the fields, to the east and west, the near-vertical walls of the valley become snow-capped 6,000-meter peaks.