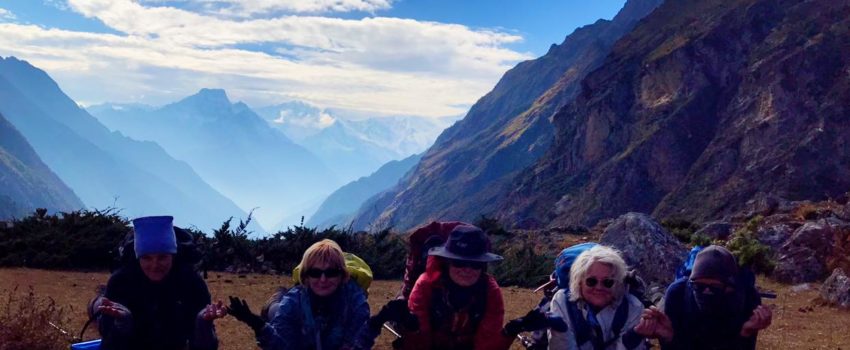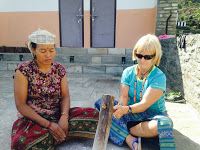 The day before yesterday we commenced our trek from Chulung to Chhokang Paro was easy going we hiked passed several mani walls left side and clockwise being the Buddhist traditional way.
The Tsum Valley trail was shaded making it wet in places as it dropped steeply to the river, a short break and cup of tea were much appreciated as it revived us before the steep climb and crossing of a landslide which took extra care. The following morning we woke to a brilliant sunrise over the snow-capped mountains.
Along the way, we hiked through beautiful fertile flat fields and extremely productive land of Tsum Valley. There were many mani walls, and Gompas on the way leaving you in no doubt that you are in Buddhist territory.
In addition, there were majestic vertical walls tower over the valley protecting those within. We continued hiking gradually climbing towards our final destination of Mu Gompa. The Gompa (monastery) is at perched 3770 meters high on the cliffs affording magnificent views. After visiting the Gompa we bravely elected to stay overnight in the monastery accommodation which meant we enjoyed a very authentic experience. In additions of staying in this unique place, we were blessed by listening to the chanting of the monks, after that, we had the privilege of eating in the ancient monastery kitchen which has not changed in 115 years.
The next morning some of our group elected to climb further to the 800-year-old Nunnery, we later returned to our previous night's accommodation and a hot shower and warm lodge. To top the day off, the avocado that our porters had been carrying since Kathmandu had ripened, so we enjoyed a feast of avocado and Cruskits biscuits that I had bought from Australia.
For other trips in Nepal https://www.tayloradventure.com/nepal/