BHUTAN THE LAND OF THE THUNDER DRAGON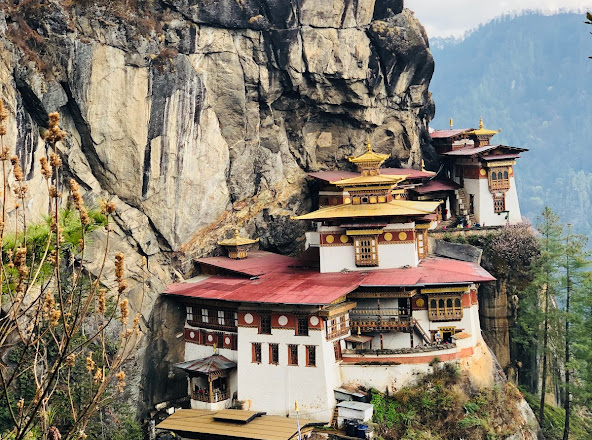 We arrived just after 3:30 for the Tshechu, one of the holiest ceremonies in Bhutan. A new Thangka ( big religious painting/ appliqué) is unrolled and special blessings & forgiveness of sins are given bestowed. The atmosphere as people arrived in the pre-dawn cool was lovely; quietly reverential, friends greeting friends & relatives and making room in the grandstand seating. All around us families – parents, children & grandparents – and some tourists. This isn't a tourist event – it's a local ceremony and marks the last of the 4 -days of the Paro Festival. Just before 4 the giant Thangka, this one is Thong-del, picturing Guru Rinpoche, who visited Bhutan in 754AD
The faces say it all. Bhutan greeted us today with a calm & peaceful beauty, at once enchanting and emotional. It pulls the heartstrings like a beautiful piece of music. The flight is a dream ( try for a left-hand seat) & we see the iconic Everest & other mountains in the clear morning light.
Paro airport is a narrow strip on the valley floor and we bank through the clouds for a perfect landing.  The distinctive buildings are vaguely reminiscent of some of the half-timbered houses in the Black Forest in Germany.  Ornate, pristine.
Wait until you see the Airport & arrivals hall! What a contrast to Kathmandu. Lyn's organization is, as usual, superb & our Guide, Phub Dorji & Driver, Kencho Dorji ( Dorji denotes male), meet us at Paro airport & whisk us to our hotels to check-in.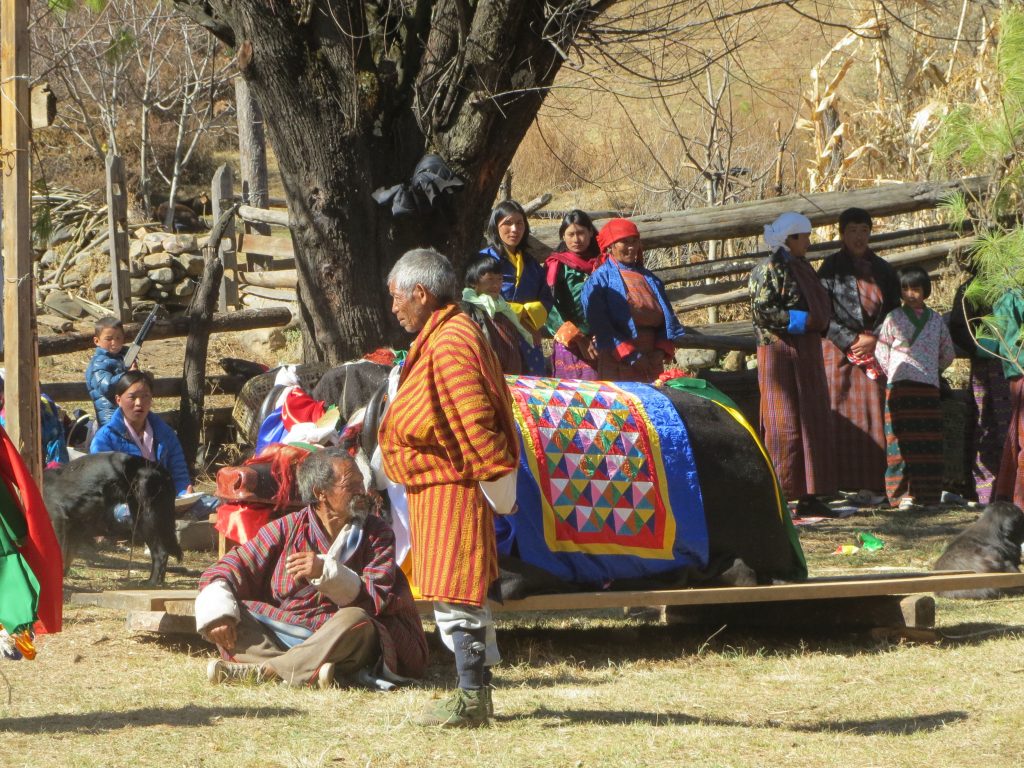 After lunch in town, we head to the Paro Dzong for the dances of the Paro Festival. It's a 4-day festival, everyone dresses in National costume -wonderful colours everywhere as people stream up the slope towards the performance area outside the Dzong.  These ladies were the last group to perform and capped off a great feast for the senses. The interior of the Dzong is lovely, ornate paintings, statues & beautiful mellow floorboards polished to a sheen by junior monks. The view from the windows across the plains and valleys to the mountains is serene and peaceful.
Cost: US$3900 :  Inclusions:  *All Airport Transfers *Excellent ground transport in Bhutan, *clean comfortable traditional hotels and guest houses twin share accom. *3 first-class meals per day whilst in Bhutan *Bottled Mineral Water *Bhutan Visa *All Sightseeing *Entry into all Monasteries *English speaking Bhutanese Guide. *Comprehensive Trip Notes: Entry permit
Click here for more details on both Festival tours: https://www.tayloradventure.com/trek/bhutan-black-crane-festival-tour/
The architectural style is like any non-other on earth and would have to be one of the most popular destinations of tourists today. With it is a land full of warm-hearted proud friendly people who go to unusual lengths to preserve each element of Bhutanese life. Bhutan follows the same principle of integrating traditional Bhutanese hospitality with the most up to date facilities. The hotels, houses and lodges across the country are built and decorated in traditional style and are the best that Bhutan has to offer. Traveller's today can experience Bhutan employing the most exciting in-depth group travel programs the travel industry has to offer. There are relatively few visitors to this remarkable land making it a unique and moving experience for the privileged few who venture into this hidden paradise
Join us on another festival tour in Bhutan departing  3rd November for a
13 days 12 night.
See Lyn Taylor about your trip of a lifetime:
Mixed Group Travel
Individual Travel
Personalised Family Holidays
Subscribe to our Newsletter:
Take a look at our website and the adventures on offer at: