I have a confession to make… I am not all that fond of road trips! But I have to say, this one is beginning to feel quite special. Why? Because while we are only driving a distance of 3 hours per day – we are cruising at half the pace! This means, along to coast up to Byron Bay, we get the chance to discover unusual places and small, quaint towns off the highway. We get to savour each moment and enjoy the peace and quiet of nature reserves without the crowds.
LOCAL PRODUCE 
Heritage towns such as Alstonville, Wollongbar, Klunes, Knockrow, Newrybar, are all hidden gems situated 30 minutes out from the crazy surfing Mecca of Byron Bay.  In these small villages, be sure to get a taste of the local fresh organic produce. Either at the local markets or showcased with alfresco dining at one of the relaxed dining experiences.
ACCOMODATION
On a NSW road trip you have a huge selection of accommodation. Ranging from camp sites, cabins and motels to hotels, bed and breakfasts, farm stays and even grand old apartments. Depending on your budget, mixing your accommodation up is a great idea. Doing this provides you with not only a unique experience but the chance to stay in the hinterlands, farm stays, coastal or cities.
A word of warning: don't leave it to the last hour to book your night's accommodation! We have found there are many Australians traveling in their own state at this time and accommodation is scarce. (I know from experience as I have been spending several hours on the internet looking for our next night's accommodation!)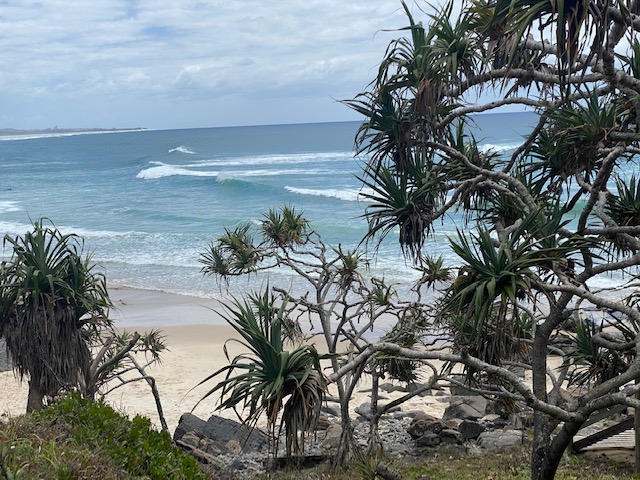 HANDY TIPS
If you are struggling to find accommodation in a particular town, try your luck about 2 days before arrival. This is because many travel booking sites offer free cancellation up until 2 days before arrival. So if someone has struck out on their trip – you may just strike it lucky!
Another handy tip is rather than booking online give the owner of the property a call as usually, the night rate is less. 
While I am not a huge fan of the driving, one thing I have always loved doing most on a road trip is this: Getting up early, around dawn, and putting on my walking shoes to head out the front door and explore a place before the town wakes up – It is amazing what you find there is always either a walking track by a creek or river, hidden lanes to discover, historical houses, parks, and fields.
We have been catching up with friends and relatives on our travels. A highlight has been staying in the lovely uncrowned seaside town of Lennox Head. This is a great place to stay, and it is only a 15-minute drive from iconic Byron Bay. Another local gem the tiny settlement of New Brighton with its quirky organic cafe situated next to yet another dog-friendly beach – perfect for those travelling with mans best friend!  
-Lyn Taylor