Our trip across NSW has brought us to the Country Musical Capital of Australia – Tamworth! Home to the renowned Tamworth Country Musical Festival, this is a regional city with music in her soul. We have found Tamworth to be a destination that delights with beautiful contrasts. A showcase of rich heritage, that at the same time embraces the future and the wonderful opportunity it holds for vibrant growth. The region also has a host of smaller towns such as Nundle and Hanging Rock.
Nundle is a charming village of 500 people in the Hills of Gold. Located just 50km south-west of Tamworth in the Peel Valley. Now, you simply can't go to Nundle without visiting the Nundle Woollen Mill! It was so interesting to listen and watch the antique machines. Humming away as they work their magic bales of finest Australian merino wool into yarns of vibrant colours.
Our next destination was Dorrigo National Park. This world heritage park is something of a hidden gem with its cool climate, waterfalls, gorges and hiking trails. Several tracks in the park allow hikers to view the park's waterfalls and vistas to the coastal plain. A notable feature of the park was the Skywalk, an elevated walkway through and above the treetops, providing birdwatchers with an excellent view of local bird life.  
We stayed for 2 nights in cabins at the very comfortable Dorrigo Mountain Holiday Park which was extremely accomodating with fabulous farm visas.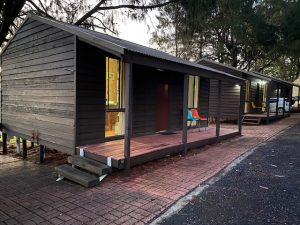 Next stops on our travels across NSW include Alstonville, Ballina and Kingscliff – see you there!
– Lyn Taylor