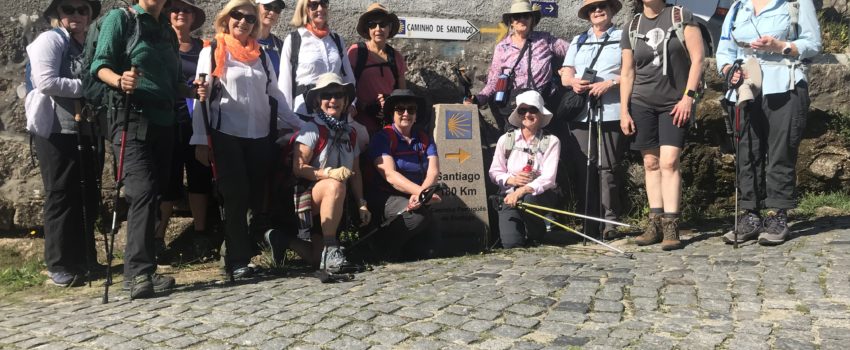 After several days of sightseeing in Barcelona, Lisbon and Porto the natives were beginning to get restless. Finally we are on our way to walk from Balugaes in Portugal to Santiago de Compostela in Spain. Our bus departed Porto at 11am and we drove 1 hour to Balugaes. A quick stop to grab a bread roll and coffee and we were on our way to Ponte de Lima which is located in the centre of a rich farming region, where the famous vinho verde is produced.  Our walk today is relatively easy on sealed and natural trail with a few short inclines to gradually ease us into what is to come in the following 9 days. The countryside is stunning much more greener that I expected especially as they are just coming out of a very hot summer. The grape vines are in abundance and trees laden with oranges apples, and chestnuts. 
The autumn colours of the trees give off thatcstunning amber and orange appearance which takes your breath away.  After a few hours of walking we stopped for refreshments at Vitorio de Piaes. Little by little the landscape starts to gradually change as
the green hills become more prominent. The scenery is fantastic and our efforts were rewarded with wonderful views. Finally we reached our destination, where our bus was waiting to take us to our hotel in Ponte de Lima the district of Viana do Castelo. The town has about 2,800 inhabitants. It is named after the long medieval bridge that passes over the Lima river that runs next to the town.
 Our day finished with a pre dinner vino at a lovely cafe and delicious meal at a local restaurant. We were all on a high having successfully completed our first day on the Portuguese Way.