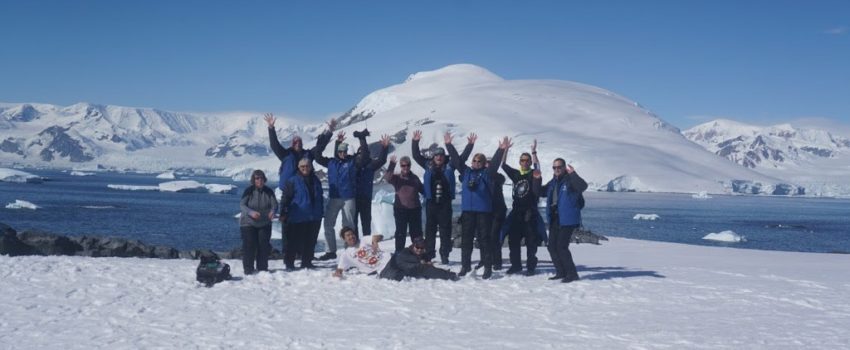 In contrast to the last 2 sunny days filled with vitamin D, this morning dawned steely grey as great big white flakes swirled around the Polar Pioneer. However by the time we had finished breakfast the snow had abated and the weather looked to be turning in our favour we ventured out in the zodiacs to visit Peterman Island. We landed near an abandoned Argentine refuge hut amongst the southern most breeding colony of Gentoo penguins. The sun finally peeped through the clouds sending a ray of light cascading along the crevassed shores. Back on board we enjoyed a delicious lamb curry lunch. Our cruise through Penola Strait was scattered with massive iceburg sculptures, our afternoon excursion took us to SalPetriere Bay were the are colonies of 3 different species of penguins, the Gentoo,
Paradise Harbour, Port Lockroy
Chinstrap and Adelie. Some of us hiked to the highest point to capture photos of this magnificent bay. The wind picked up as we took our zodiac cruise among the ice bergs whilst others headed back to the ship. Luckily the unpredictable weather of the Antarctic changed again so that we could enjoy a deck BBQ, sipping in mulled wine. Everyone got into the mood of the evening and we even danced on deck in our arctic gear. The finale of the evening was a spectacular cruise through the Lemaire Channel.