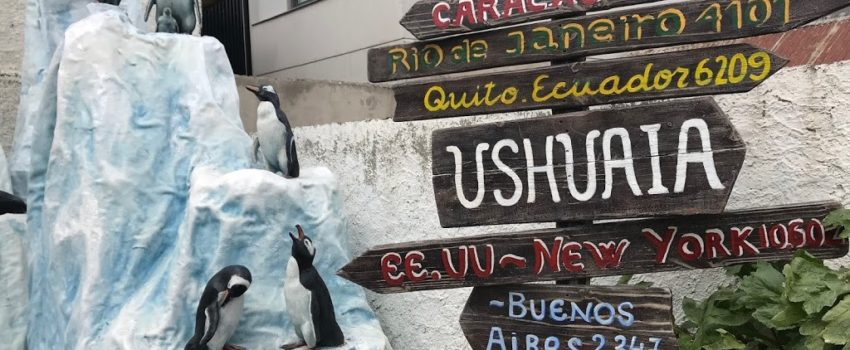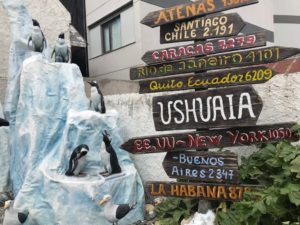 After months of planning, weeks of anticipation and long-haul flights from Sydney, we finally arrived at Ushuaia, known locally as el fin del Munda (the end of the world), raring to begin our Antarctic adventure.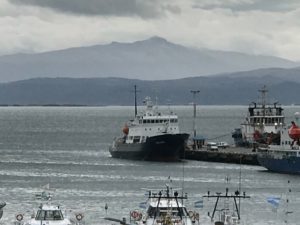 At 1600 we clambered up the gangway where our crew showed us our cabins, I must say we were pleasantly surprised at the spaciousness, and abundance is storage space. Then it was off to explore the nooks and crannies of our cosy home for the next 10 days,and to meet our fellow 54 passengers who have joined us from around the globe. Before long we were called to our first scavenger hunt of the evening which was to fund the bar on deck 4, where our Expedition Leader Christian welcomes us to our new home for the next 10 days. We were introduced to the Aurora staff and shown what to do in case of a 'man overboard ' or an emergency at sea.
The sound of seven -short-one long rings from the ship's signal system was one cue to don warm clothes, bulky orange life jackets and gather at the muster stations to sample the ambiance of a Polar Class life vessel. Even without a full complement of Russian crew the seating arrangements in the lifeboats was very cosy.
Many of us found the bar before it was off to the dining rooms where we chatted with fellow voyagers over a delicious meal prepared by our chefs. Following dinner we had yet another scavenger hunt to find the lecture room for the Great Gumboot Giveaway. After much squiring and some effort, we all found the perfect fit of gumboots to keep our feet snug and dry for the adventure ahead.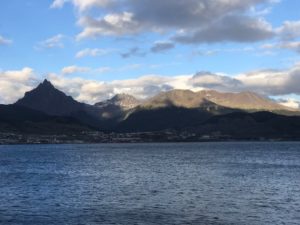 At long last the announcement was made: We were off! Shiny new goretex jackets were donned and we took to the decks to wave farewell to South America. A shimmering pink sunset cast a soft light over the mountains as Ushuaia receded farther into the distance.
Giant Petrels bobbed and Antarctic terns dipped and dived whilst the Polar Pioneer sailed past snowy slopes brilliant in the fading light. To our port side Mount Olivia stated her grandeur in Argentina whilst the starboard side boasted the impressive Dientes range in Chile. After one last look at the Beagle Channel, we retired to our cabins for a much needed sleep. Today we are on our at sea motoring southward across the famous Drake Passage, between informative lectures, the Bridge is the perfect place to watch as the wonders of the Southern Ocean unfurl.