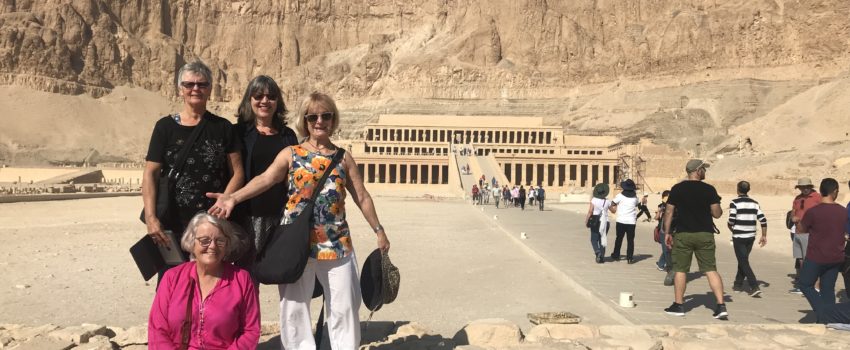 This morning we departed Cairo for Alexandria. Alexandria is the biggest learning city in the Mediterranean area. Many Greek philosophers came to learn in Alexandria Library. We visited the new library which was designed by a Norwegian man who won a competition out of 1000 entries. The library is made of grey granite designed and inscribed with symbols of 120 languages. The main reading chamber is made up of 70000 square meters of reading hall.
Alexandria was once a European city, where Italian, French, Greek and English were heard far more than Arabic.In 1882 to 1914 the city of Alexandria was beautiful, and so clean that one could have eaten off the streets. Very different to what you see today. Alexandria was a European city but it belonged to the Egyptians. Mohammed Ali was the founder of the modern city 1870-1871. We also visited the once Royal Palace and gardens which looks over the Mediterranean Sea. After another long but exciting day we arrived to our hotel Sheraton situated opposite the Mediterranean.
Aswan is located between the Aswan Dam and High Dam it is also situated close to Philae Temple. Because of the remoteness and lack of facilities the people left their homes on the island 40 years ago and now live in cities and villages close by. Still the Nubian people have a dream of returning to their island one day and bringing their heritage back to life.
Today we visited a Nubian village and privileged to be invited into their home for tea. Later on m the day we returned to our beautiful hotel situated on an island with amazing views of Aswan and the Nile River. In the evening we enjoyed a delicious meal in the restaurant tower overlooking the Nile.
The following day we transferred from our hotel to the airport to catch our 30 minute flight to Abu Simbel. Upon arrival, we visited the famous Abu Simbel temple. This temple was built in ancient Nubia by Ramses II to demonstrate his power as well as his divine nature. Four colossal (20 meters / 65 feet high) incredible statues of him sit in pairs flanking the entrance. Once our visit was finished, we transfer back to the Abu Simbel Airport to catch our flight back to Cairo and transferred to our hotel for our final night in Egypt