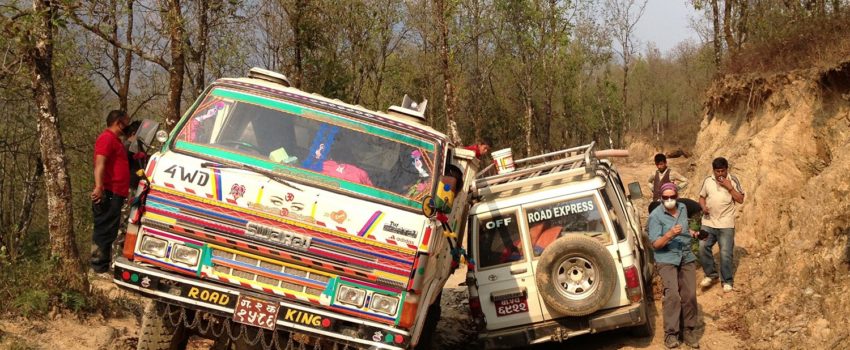 BUDDITHUM  VILLAGE AND THE SCHOOLS
I'd been to Nepal before.  Trekking with Lyn & friends in the Annapurna region last year.  First trek.  First trip to Nepal.
There's a reason "Namaste" is used for Greetings & Goodbyes.  Once you've heard it, used it – you'll want to return.  And so did I."This time," I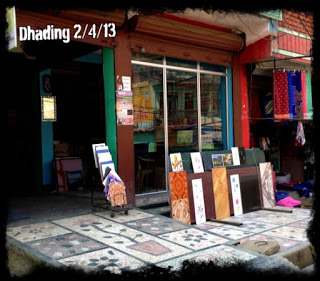 said to Lyn over coffee one morning at our local spot, " I'd like to do a slow trek,  see a different area, hang around & see what happens in some of the  villages & hamlets. Stay a couple of nights, here & there. "
"We can do that." And so the "Bistari Didi" trek began to take shape, scratched out in my dog-eared notebook.
Lyn rang a couple of days later:  "Prakas will take you …. And you might like to come up to TB's village for a few days.  We can stay with him and we'll go to see the schools"
Would I what!  I'd died & gone to heaven!   Two of our wonderful guides from last year, who'd become great friends – trekking with Prakas and visiting TB & his family.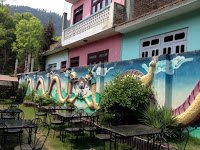 This is a glimpse of our 5 days living, laughing & exploring with TB & his family in Budhathum.
Karoline, a fellow Bhutan traveller, TB & I set off from the Yak & Yeti  with our driver after breakfast on 2nd April.
Lyn's notes are, as ever, spot on …. " Remote Maguwa Village."
To give you an idea of "remote", it's about 9 hours' drive from Kathmandu in a private vehicle.   We had a Landcruiser, (oh what a feeling Toyota!) drove 3 hours west on sealed highway to Dhading.   As the main highway between Nepal & India, you can imagine how busy it is.  We were glad to be heading out of town, as the traffic was bumper to bumper like a giant colourful caterpillar going nowhere fast coming into KTM.  At average 40kmh, we were positively zooming past!
This is the main street of Dhading – where we bought vinyl for a new room at TB's house, poly pipe for the shower in the newly built bathroom, gas cylinders for the hotplate & other supplies.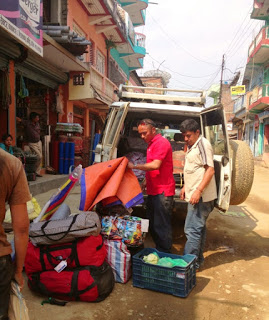 From Dhading about 3 hours (42 kms) to Arughat Bazar, on unsealed, rocky, bulldusty road, winding around hillsides & up & down hills & valleys
Two minutes  Arughat Bazaar, we stop at a wonderful hotel for lunch.  Excellent Dal Bhat in a charming garden setting.  Meet Dan the Dog (Australian Shepherd), the film star owner & his down to earth & charming wife.   The plan is to stay here overnight on our way back to Kathmandu next week.   Mice & Men.
Arughat Bazar is a biggish regional market town, and we stop to buy fruit, vegetables and a few other supplies, including an outdoor umbrella.   A bit of reorganization is required!   Those colourful plastic bags contain books, clothes & shoes donated by various people and brought over thanks to Singapore & other airlines' generous extra 10kg allowances.
From Dhading to TB's village Budhadhum Dhaje 1, the road deteriorates.   It takes another 2 hours or so to reach TB's home.  Best to employ the, " sit loose in the saddle" method & go with  the flow.  No road graders here – they wouldn't fit and the government ministers far  too  busy lining their own pockets to do anything for the regions that voted for them on their election promises.
The car windows go up & down as we juggle dust & cooling breeze – no aircon here and it's pretty warm. High 20's – mid 30's I'd guess.  The routine is "window down, mask on", "windows up, masks off"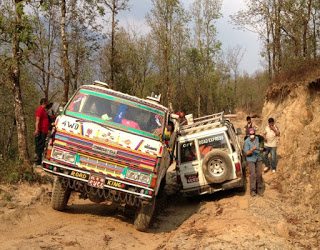 I grew up in the country and am used to rough roads on & around our places;  FNQ and the NT – but this one is a very strong contender for my "worst road" award.  It has the magic combination – rocks, bulldust covered 2ft deep holes, whee ltracks so deep you need to drive on the ridges between or lose your sump; blind "S" bends and seemingly impossible inclines & descents.
I'm in awe of the drivers on these roads, there's barely enough room to pass in many places.  Yet these guys expertly ply huge buses, packed like sardine tins in & on top; tankers & supply trucks, the occasional 1 toner of cattle or goats, around hairpin bends, passing & overtaking where they can; always tooting their horn on approaching bends or when overtaking.  They don't drive very fast – you can't in this terrain & their cooperative attitude makes the system work with good humour.
It wouldn't work at home – we're far too impatient & some of our louts with their "road rage" mentality could take a big lesson from these guys!
It doesn't always work here either, though.   The teenage driver of this truck misjudged the distance and the depth of the wheel tracks.   Just before we reached TB's village, we were "kissed" – ever so slowly & gently, but not exactly what either party had in mind!
 TB's common sense country boy experience soon had us freed.  Dig under the truck's outside wheels, it drops down & away from our 4WD.   At no time did anyone raise their voice, lose their cool or any of the reactions one would expect in our so called "civilized & sophisticated" world!
Finally, we're home – Lyn, Tara & the girls give us a warm welcome … and a cold beer!
TB  Tara (in pink) with (L-R) Asmyer, Gangu, Narita, Shanti, Melina.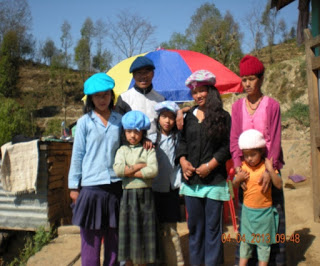 TB immediately sets about installing the shower hose so we can wash off the dust before the water gets too cold.  The water comes from a spring and is warmed in the polythene pipe laying on the ground by the sun.  Before the shower & toilet block was built, everyone washed using a basin or under  the hose in the open.  New toilet & shower block is great!
Their house is quite new – only about …1 year old, roomy & comfortable in contrast to their previous home, this tiny cottage a few meters away.    Th  T sAD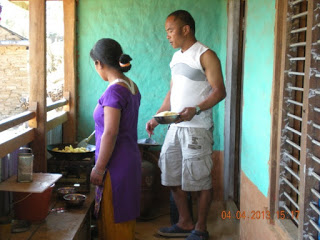 Out here, TB cooks wonderful meals for us on a double burner gas hotplate.  The best potato chips I've ever tasted – with mustard oil.   Dal Bhat and other dishes are cooked on the traditional earth oven in the little cottage.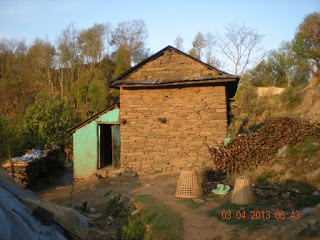 Everyone helps in a Nepalese family, and children learn to carry things in the traditional baskets from the time they are very small.  The older children help with the younger ones, just as we did in our parents & grandparents' time.   We say, "It takes a village to rear a child", but it really means something here. All the kids have chores and learn the art of carrying things in baskets from the time they are tots, when they follow Mum around with a tiny, empty basket.
This is the new house – new bathroom and toilet block in the background.  "Hot water system" on the ground on the right.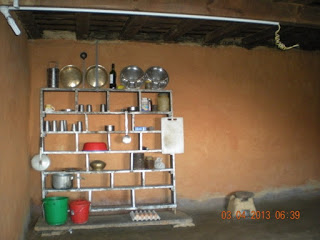 A baby goat was born during our stay.   No embarrassing "sex lessons" for these children – they know where babies come from!
 A first time mother, the Nanny goat was not the slightest interested in her progeny – so Tara, Karoline & a couple of the human kids give her some encouragement in the breast feeding department.
By the next morning, Nanny was the complete doting mother – she just needed a coach!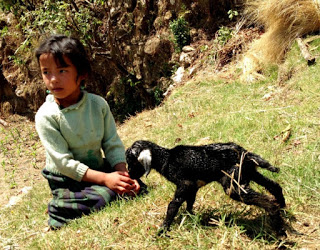 We'd brought clothes, shoes, books and other things.  Many thanks to Singapore Airlines (and others if applicable)for the extra 10kg allowances for Lyn's clients!   This was the initial distribution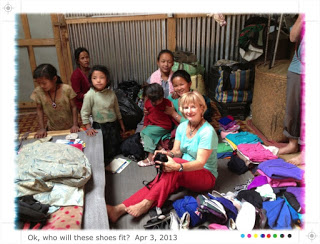 DONATIONS OF CLOTHING BEING DISTRIBUTED TO THE LOCAL VILLAGERS
SADLY SINCE ROBY WROTE THIS WONDERFUL ARTICLE ON HER VISIT. THE EARTHQUAKE THAT STRUCK NEPAL IN APRIL 2014 DESTROYED THIS FAMILY HOME