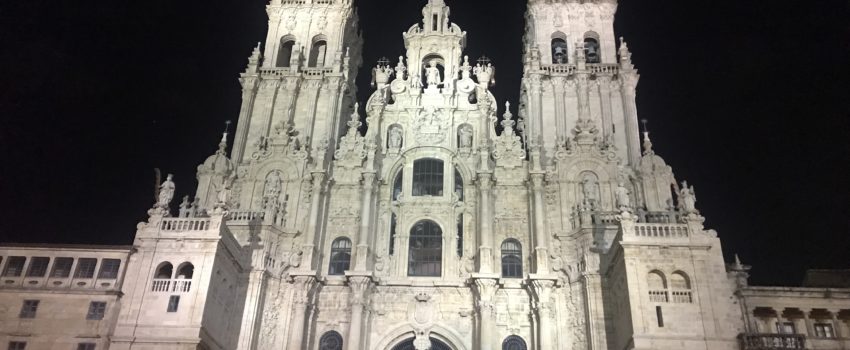 The Camino path to Santiago de Compostella has been an amazing experience.
It has been great to see the countryside from the pathway with so much diversity……far more mountainous country than I imagined with lots of woodlands full of oak, chestnut and pine. There has been a surprising number of flowering plants for the end of summer, including things we would be calling weedsFARME and also masses of colourful berries.
The high mesas have been a huge contrast….rolling plains, hot, dry and dusty, with cut crops of wheat for hay ( I think) sunflowers, turnips, corn and vineyards. According to the locals we have been having unseasonably warm and dry weather for the north of Spain, for which we have been very grateful.
Because of our short time frame, we have bussed some distances at the end of the day, but still getting plenty of good walking and the variety of countryside and vistas. There have been many pilgrims on the track……all for a variety of reasons, many age groups and from all over the world. My favourite walking companion was an 84 year old man from East Coast US walking with his daughter celebrating her 50th. He was inspirational and extremely good company. So your choice is to walk alone and reflect or walk with interesting company. A great way to spend the day with a mix of both. Take note, no Shirley McLean epiphanies!
During the day we would munch on apples which had fallen from the trees on the path, as well delicious figs and blackberries were in abundance. There were also vineyards, laden with grapes, vegetables gardens full wonderful produce, a type of silverbeet which was used in a delicious soup, cauliflower, spring and onions. Despite being early autumn, there was still lots of produce on the go sustainable eating is alive and well in Spain, even in the towns.
Part of my plan was to eat my way across the north of Spain….mission accomplished. The food has been really good and so cheap, as is the wine, so I'm going to have trouble settling for small breakfasts and dinners back in Australia.. Eating on the track is a series of small bars and restaurants in tiny villages to keep our strength up! Yummo!
The last 100km must be done without assistance (ie bus or taxi) in order to attain your certificate of accomplishment from the cathedral in Santiago and therefore be cleansed of all your sins. We started this part of the trek yesterday and in true Galicia form the heavens opened and it rained all day. Oh, my goodness. Today was 27km and intermittent rain, so marginally easier, but I am a little weary in the legs, but fortunately no damage to legs or feet (mustn't boast- I know that can all change in an hour) only 3 days to go……we have a couple of days in Santiago then head to the coast of nth Spain at Finesterre ( the end of the earth in 9th C)
Our arrival into Santiago was quite emotional I have to say and the cathedral was astounding. We attended several masses along the way – mostly in small villages after a day's walk and dedicated to pilgrims…… a very nice way to finish the day.